St. Paul C-I permits up 17% in 2020
https://urban-works.com/wp-content/uploads/2021/01/Permits-KA-project-w.jpg
620
330
UrbanWorks Architecture
UrbanWorks Architecture
https://urban-works.com/wp-content/uploads/2021/01/Permits-KA-project-w.jpg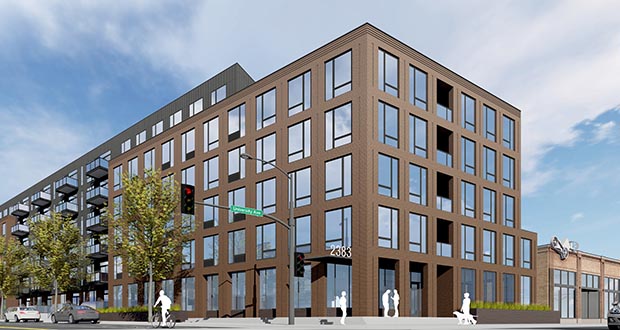 St. Paul C-I permits up 17% in 2020
via Finance and Commerce
Also in December, Minneapolis-based Kraus-Anderson obtained a $6.4 million permit for work related to a six-story, 220-unit apartment project on a 1.175-acre site at 2383 University Ave. W. Kraus-Anderson Development is the owner.
The apartment building will rise at the northeast corner of University and Raymond avenues, a block from a Green Line light rail transit station in the St. Anthony Park Neighborhood. Demolition of a former U.S. Bank building is underway to make room for the project.
Tim Marco, director of development for Kraus-Anderson, said Wednesday that the December permits are for footings and foundation work. Construction is scheduled to wrap up in summer 2022.
Designed by Minneapolis-based UrbanWorks Architecture, the building is designed with "young professionals" in mind, according to Kraus-Anderson. It will offer apartments ranging from 500 to 1,100 square feet and amenities such as underground parking, and outdoor courtyard and a rooftop patio.
You might also like
New George Floyd Square, Trellis plans to convert church into affordable housing

https://urban-works.com/wp-content/uploads/2022/07/churchconversion_660xx1325-745-0-14.jpg

660

371

UrbanWorks Architecture

UrbanWorks Architecture

https://urban-works.com/wp-content/uploads/2022/07/churchconversion_660xx1325-745-0-14.jpg