Aeon opens $54.3M affordable housing development
https://urban-works.com/wp-content/uploads/2021/12/Aeon-BloomingMeadows.jpg
620
330
UrbanWorks Architecture
UrbanWorks Architecture
https://urban-works.com/wp-content/uploads/2021/12/Aeon-BloomingMeadows.jpg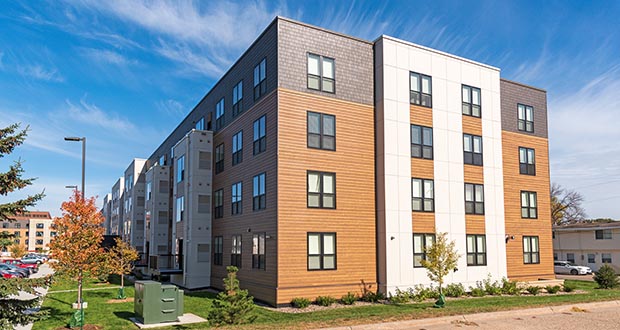 Aeon opens $54.3M affordable housing development
via Finance and Commerce
The city of Bloomington's affordable housing stock just went up with the completion of a $54 million, 172-unit development in the city.
Nonprofit housing developer Aeon announced the grand opening this week of its Blooming Meadows North development, which is next to Aeon's existing Blooming Meadows South at 1930 E. 86th St.
The campus is just off Highway 77 near Interstate 494 and the Mall of America.
Blooming Meadows North offers a housing mix that includes three- and four-bedroom units to serve larger families. Aeon said 75% of the new apartments are affordable to households at or below 60% of area median income. The remaining 25% are affordable at 70% AMI.
BMO Harris, Enterprise, Greystone, the state of Minnesota, and the city of Bloomington were "financial partners" in the project, Aeon said. The project team includes UrbanWorks Architecture and Frana Cos. Touchstone Mental Health is on board as a service provider.
You might also like
New George Floyd Square, Trellis plans to convert church into affordable housing

https://urban-works.com/wp-content/uploads/2022/07/churchconversion_660xx1325-745-0-14.jpg

660

371

UrbanWorks Architecture

UrbanWorks Architecture

https://urban-works.com/wp-content/uploads/2022/07/churchconversion_660xx1325-745-0-14.jpg