Interior Design at UrbanWorks
https://urban-works.com/wp-content/uploads/2021/08/August-Blog-Post_Banner.jpg
1495
867
UrbanWorks Architecture
UrbanWorks Architecture
https://urban-works.com/wp-content/uploads/2021/08/August-Blog-Post_Banner.jpg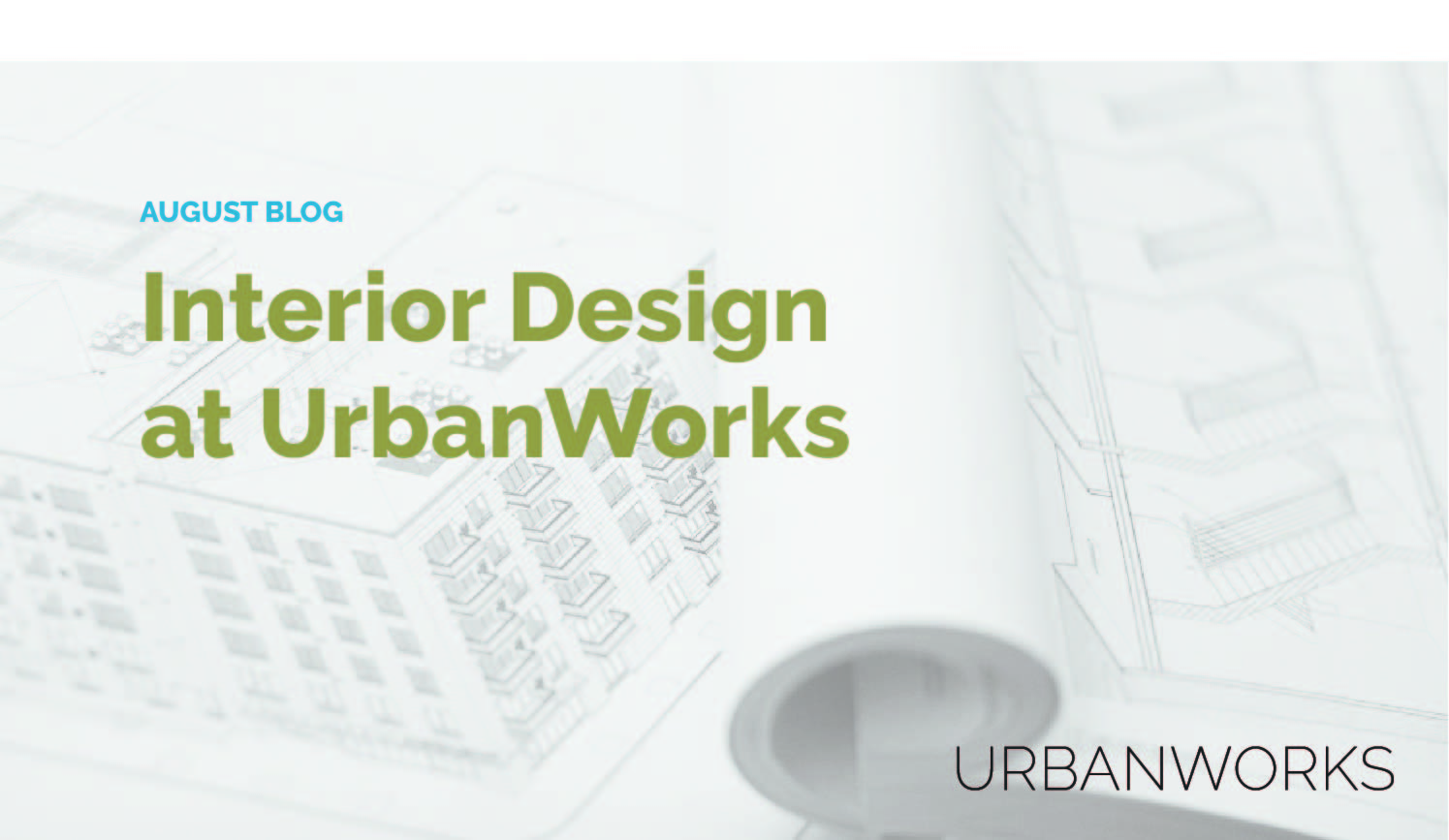 Interior Design at UrbanWorks
Since 2015 UrbanWorks Architecture has had a talented Interior Design team on staff providing interior design and FF&E (Furniture, Fixtures, and Equipment) for our projects. Having grown from a team of 1 to 5 staff members, our Interiors team touches every project we work on. Interiors staff work with the Designers and Architects throughout the design and building process to ensure a cohesive space inside and out. Whether room layouts, kitchen fixtures, or large scale murals, our Interior Designers bring creative solutions and thoughtful design choices no matter the space. We have asked our Interior Design team to share their perspective on their role and impact on the building process.
How long have you been with UrbanWorks, and what is your role?
Sarah Davis: I have been an official UrbanWorker for 5 years, but have been collaborating with them on projects for an additional 2. I am a Senior Interior Designer, and consider myself a team advocate both internally and externally.
Liz Williams: I'm coming up on 3 years in September, and am a Senior Interior Designer.

Sarah Doherty: I have been with UrbanWorks for just under 2 years as an Interior Designer.
Stephanie Nardi: I am an Interior Designer and have been with the firm about 3 months.
Rylee Trapp: I am the Interior Design Intern, and have been with the firm for a year.
What stands out to you about your time at UrbanWorks?
Sarah Davis: It sounds a little cliché, but the amount of collaboration that occurs between architecture and interiors is far and away the best I have ever experienced in my career. So often an interior designer can be limited to selecting finishes for a 'box' that has already been dictated to them.  Being a part of the process early on allows us to help develop a stronger connection between the larger structure and how the resident will feel and interact within the space.  The willingness of the team to compromise on the best solution from both the architecture and interior design perspectives is what make UrbanWorks successful  and great place to work.
Liz Williams: I love that I am able to be in a position that allows me to be both creative and technical, to work on all phases of a project's development, and to work with a range of individuals with varying backgrounds and perspectives. I have the opportunity to be a part of a project from the initial building programming and interior design through to the construction administration efforts and furniture & artwork installation. Such a variety allows for each of my days to be different and I enjoy the project management efforts of prioritizing, organizing and collaborating to ensure tasks are accomplished successfully. Another aspect that I find exciting is the wide range of individuals I work with throughout a project. Working closely with clients and management teams allows for the design of the building to come to life while collaborating with architects, designers and contractors makes that design vision a reality! It is humbling to walk through a space that you helped to create, knowing that those occupying the spaces are being impacted by your design decisions.
Sarah Doherty: When I first started at UrbanWorks, the Interiors group was relatively new. Since then, we've completed numerous projects, built lasting relationships with clients, developed standards for our group to work towards and even won several awards. It has been so rewarding to be part of building this team together.
Stephanie Nardi: The main project I've been working on is Vista 44 and I've really been enjoying the process. A big thing for me is feeling good about the work that I'm doing and not just in the sense that it's a cool or beautiful design. I feel the best about the work that I know will positively impact a community that really needs it and I think that's what we have with Vista 44.
Rylee Trapp: I've really enjoyed learning from everyone on the design team. Being able to assist on multiple different projects and see how each designer adds their own personalities into their projects has been super interesting.
What project at UrbanWorks has been your favorite to work on?
Sarah Davis: There have been many projects that I have enjoyed working on, but ones where there is mutual admiration between client and creatives are particularly gratifying.  Our work with Youthlink on their Youth Opportunity Center and Downtown View housing was one of those projects.  They often expressed their appreciation of the design process, creative solutions and our ability to address their concerns and wishlists.  In turn we were humbled by their selfless dedication to empower young people.  Working to together on creating a space that provides support and opportunity to previously homeless youth makes work much more purposeful.
Liz Williams: It is a toss-up between the Guild Crisis and Recovery Center and The Redwell Apartments for me. Both are very different project types and designs from one another but they bring a strong impact to the community! It was very exciting to have the opportunity to design the Guild Crisis and Recovery Center in Scott County (IRTS) project. I was able to research and implement both trauma-informed and evidence-based design principles while developing an understanding of how best to create positive, residential-styled spaces to encourage client and staff well-being. This facility is also helping to shed light on mental & chemical health and how important it is for these services to be integrated within our communities without the institutional stigma that we have seen in the past. The Redwell Apartments was an extremely creative effort that was a blast to develop! Having a strong brand concept, the redwell apple, in addition to the property's location within the artistic North Loop neighborhood allowed for a unique design story to flow throughout the building. This complex offers a much needed affordable living option needed within this area of Minneapolis and with that we were challenged to find unique and creative design solutions that would make a visual impact and offer long lasting durability while following an budget. One of my favorite design element in this project is the apple peel inspired mail area corridor – it is an abstract integration of the project's apple theme that brings a unique visual experience to the residents!
Sarah Doherty: My favorite project I've worked on so far is the PITCH. It was my first project at UrbanWorks that I got to start from the very beginning. The whole process has been fun, from the early programming stages to the finishing touches we've been working on recently.
Stephanie Nardi: The main project I've been working on is Vista 44 and I've really been enjoying the process. A big thing for me is feeling good about the work that I'm doing and not just in the sense that it's a cool or beautiful design. I feel the best about the work that I know will positively impact a community that really needs it and I think that's what we have with Vista 44.
Rylee Trapp: The Highland Bridge PPL project, because I have been able to give my input on material selections and changes to the design. I've really enjoyed being a part of the team and going through the design process as it's my first time doing so in a real-world application.
What aspect of interior design is the most enjoyable for you?
Sarah Davis: After years of working on projects, I am still in awe when a space is completed.  The ideas and concepts that grow in our imaginations become real and so often I am amazed that it turns out just as I had pictured it in my head. It never gets old!
Liz Williams: That I am inspired on a daily basis and always thinking of how we can integrate and innovate inspirations into our designs. Just the idea of taking in the world around me, seeing what inspires others and the curiosity that steams from inspiration, it is a privilege to have this be a part of what I do every day!
Sarah Doherty: My favorite part of interior design is being able to create meaningful and impactful spaces for our community to enjoy. Interior design impacts peoples' everyday lives, whether they realize it or not. The design really drives what a person's experience is as they occupy a space and it's so rewarding and fun to be part of that.
Stephanie Nardi: I think the aspect of interior design that is most rewarding for me is knowing that I have a direct effect on how someone feels in a space without them really knowing it. Some of these spaces are where people spend a big majority of their time and to be able to potentially enhance their wellbeing by the way I design a space is unique position to be in.
Rylee Trapp: I really love the beginning of projects when it's important to do some research about the project, site, etc. I enjoy understanding why something needs to be designed a certain way to best fit the users of the space. I also love seeing how all the final finish and furniture selections come together to help create one cohesive design.
You might also like
Spotlight on Interior Design in Affordable Housing

https://urban-works.com/wp-content/uploads/2022/03/Interior-Design-Affordable-Housing-Banner.png

6226

3350

UrbanWorks Architecture

UrbanWorks Architecture

https://urban-works.com/wp-content/uploads/2022/03/Interior-Design-Affordable-Housing-Banner.png