Understanding Evidence-Based and Trauma-Informed Design Principles
https://urban-works.com/wp-content/uploads/2021/10/October-Blog-Post_Banner-scaled.jpg
2560
1377
UrbanWorks Architecture
UrbanWorks Architecture
https://urban-works.com/wp-content/uploads/2021/10/October-Blog-Post_Banner-scaled.jpg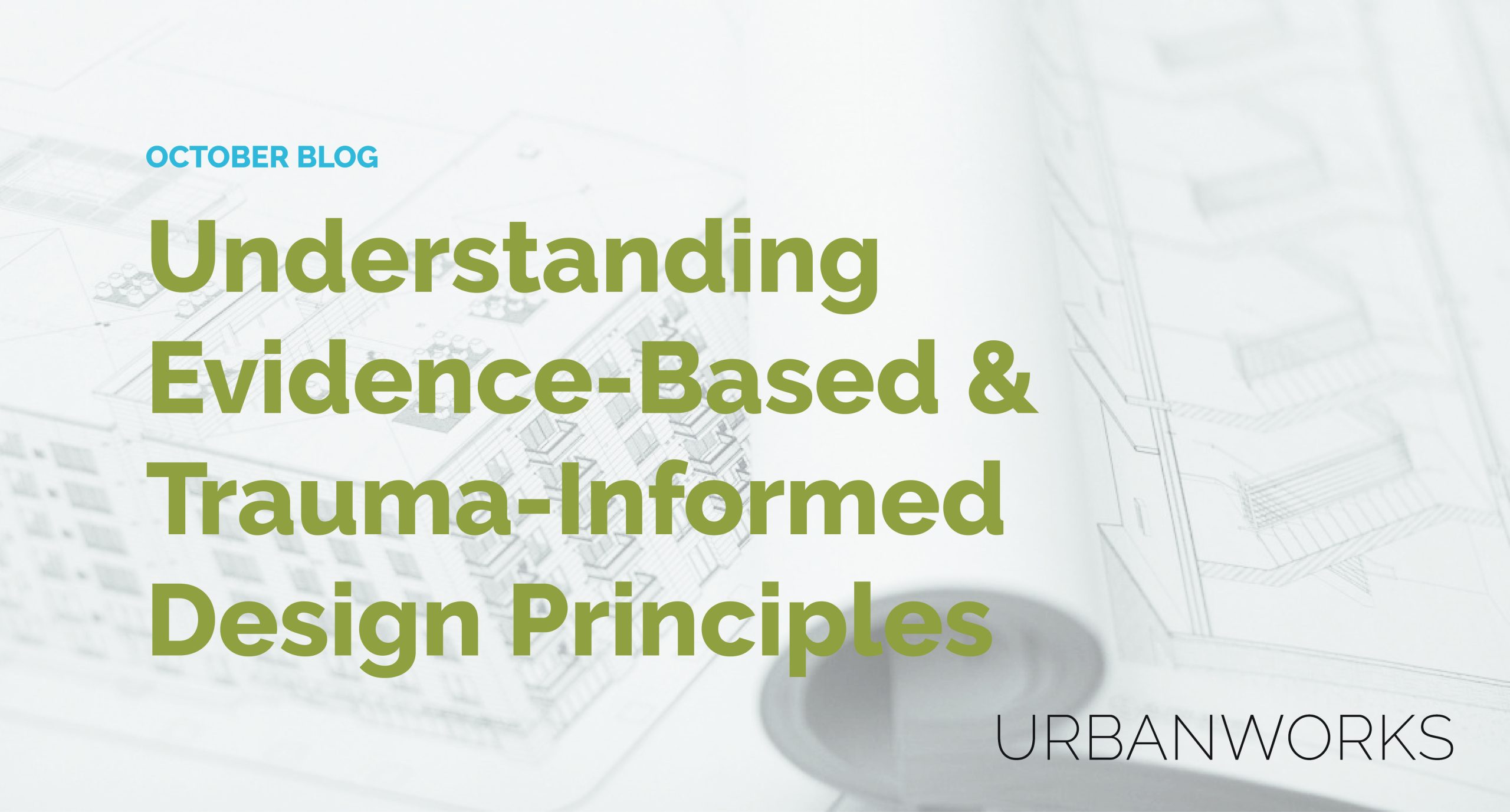 Understanding Evidence-Based and Trauma-Informed Design Principles
UrbanWorks has come to specialize in unique, mixed-use projects — from multifamily with supportive services to new prototypes that pair less conventional uses. A few examples include housing and services for adults with serious and persistent mental illness; shelters with community space for homeless youth and adults; specialized design for physical and cognitive disabilities; and communities for folks struggling with addiction and chemical abuse.
We use the principles of evidence-based and trauma-informed design to help guide the process. While this is especially important for projects with vulnerable populations – such as those with mental illness or disabilities – we've come to think of these as being important to consider for all our project types. They consist of attributes that have been scientifically shown to improve outcomes like reducing stress, spatial disorientation, and encouraging social support. While there is no one-size-fits all, architectural features may include the following: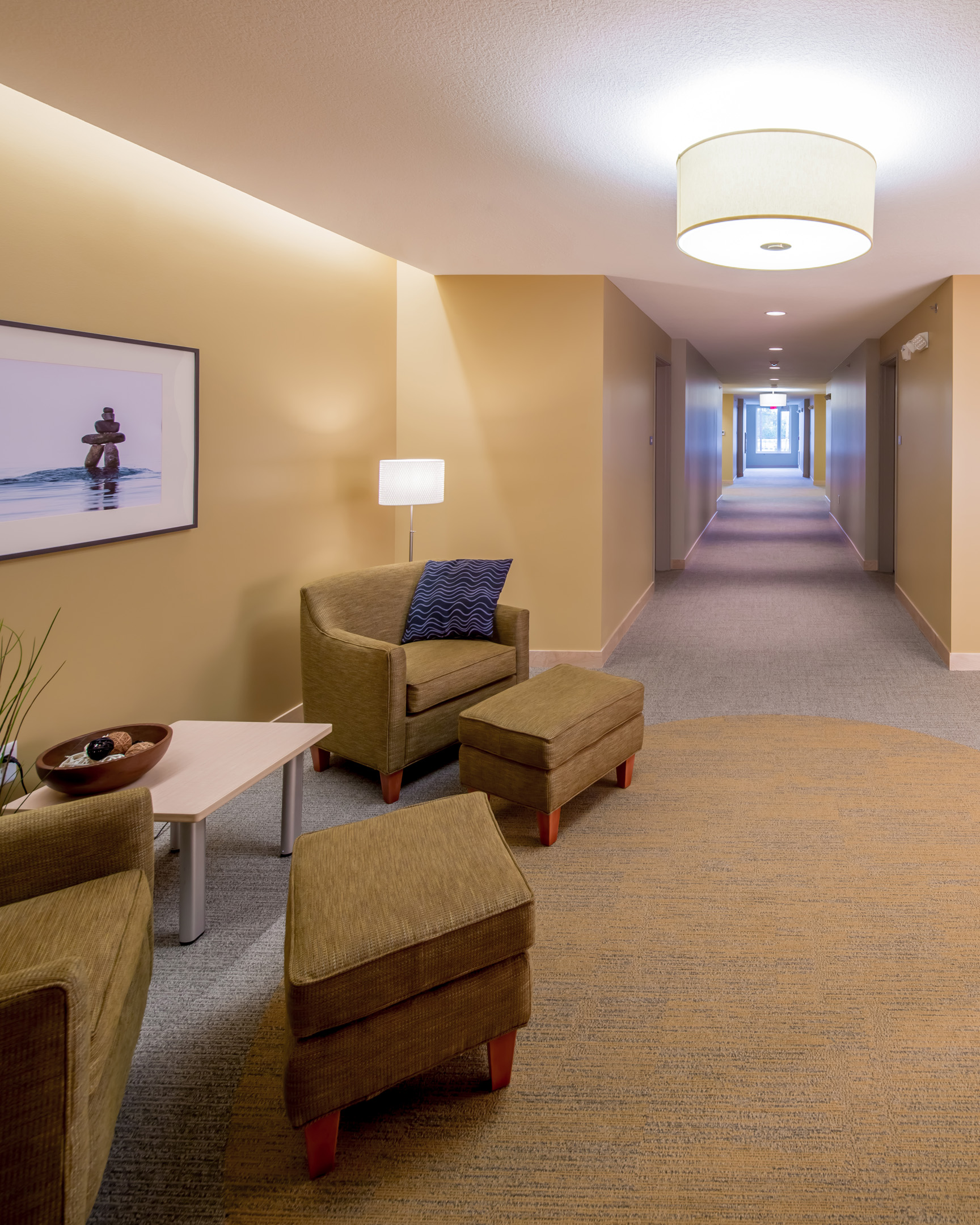 Architectural Features
A welcoming, safe and secure homelike environment that avoids the social stigma of institutions
Sense of empowerment / individual control over the degree of social interaction
Control of the physical environment for lighting, temperature, and privacy
Strategies to encourage both informal and intentional community
Multiple ways to circulate in, through, and out of a space
Abundant daylight
Rooms oriented according to circadian rhythms
Landmarks for wayfinding and orientation to time/space
Connections to nature both inside and out
Appropriate acoustic strategies
---
Project Highlights
Guild Crisis and Recovery Center
Located in Savage, MN, the Guild Crisis and Recovery Center offers two innovative programs: Intensive Residential Treatment Services (IRTS), where clients can stay up to 90 days to help stabilize their mental or chemical health; and Crisis Stabilization, for clients who are experiencing a mental health crisis and need immediate care. These services fill a critical need for adults who are at risk for homelessness, death by suicide, inpatient hospitalization, or long-term institutionalization.
---
Rising Cedar
As the first model of its kind in the nation, Rising Cedar responds to a critical need for permanent, affordable, supportive housing and integrated services for adults with serious and persistent mental illness (SPMI). Before Rising Cedar was completed in 2013, there were fewer than 100 permanent supportive housing units to serve the nearly 170,000 adults with SPMI in the Twin Cities. With 40 new units, Rising Cedar has significantly increased the local affordable housing units available to this population. In addition, the Community Health and Wellness Center gives Rising Cedar residents (and members of the greater community) convenient access to individualized treatment and services. This unique combination of permanent, affordable, supportive housing and on-site services helps reduce or eliminate many of the financial and emotional challenges faced by adults with SPMI. The Rising Cedar model also costs significantly less per individual than traditional psychiatric nursing homes or treatment centers.
---
YouthLink and Downtown View
YouthLink is a non-profit organization that works with homeless youth, ages 16-24. Located in downtown Minneapolis, they have over 40 years of experience connecting young people with resources and support – be it a hot shower or warm meal, assistance with employment or educational goals, accessing mental and physical health resources, or finding supportive housing.

In 2018, they completed a substantial renovation and addition that transformed their office headquarters, Drop-In, and Youth Opportunity (YOC) facility. In conjunction with that effort, they partnered with Project for Pride in Living (PPL) to develop a portion of their lot into Downtown View – 46 units of new, long-term supportive housing for homeless and at-risk youth ages 18-24. With apartments that consist of studios and four-bedroom suites, Downtown View provides a model that helps young people on a path of self-reliance, where dreams and goals can become a reality.

Together, YouthLink and Downtown View form a unified campus that creates a holistic, positive, and vibrant community – making it a welcoming place critical to the journey-oriented nature of young people experiencing homelessness.
---
MPS Center for Adult Learning
Minneapolis Public Schools (MPS) created a new Center for Adult Learning located on Lake Street near Hiawatha Avenue. It is specially designed for two programs: Transition Plus and Adult Education.

Students enrolled in these two programs are all adults with unique needs. The Transition Plus program is designed for learners that have educational and physical disabilities, teaching them the skills they need for employment and independent living. The Adult Education program connects individuals to the skills they need for stability, self-sufficiency, and a career path in our community.

In the past, both programs had been relegated to leftover space in the District, such as unused elementary schools and Class C office buildings- neither of which were suited to adult learners, nor had learning environments optimized for special needs.

By combining Transition Plus and Adult Education into a new facility, spaces were uniquely tailored to the requirements of adult students, the shared space was optimized for the District, and new opportunities arose for the two programs to collaborate. The final design resulted in a project that is a proud, visible asset for our community, elevating the priority to serve the District's various adult learners.
You might also like
New George Floyd Square, Trellis plans to convert church into affordable housing

https://urban-works.com/wp-content/uploads/2022/07/churchconversion_660xx1325-745-0-14.jpg

660

371

UrbanWorks Architecture

UrbanWorks Architecture

https://urban-works.com/wp-content/uploads/2022/07/churchconversion_660xx1325-745-0-14.jpg

Spotlight on Interior Design in Affordable Housing

https://urban-works.com/wp-content/uploads/2022/03/Interior-Design-Affordable-Housing-Banner.png

6226

3350

UrbanWorks Architecture

UrbanWorks Architecture

https://urban-works.com/wp-content/uploads/2022/03/Interior-Design-Affordable-Housing-Banner.png