Celebrating Milestone Anniversaries
https://urban-works.com/wp-content/uploads/2021/02/February-Blog-Post_Banner-01.png
6225
3338
UrbanWorks Architecture
UrbanWorks Architecture
https://urban-works.com/wp-content/uploads/2021/02/February-Blog-Post_Banner-01.png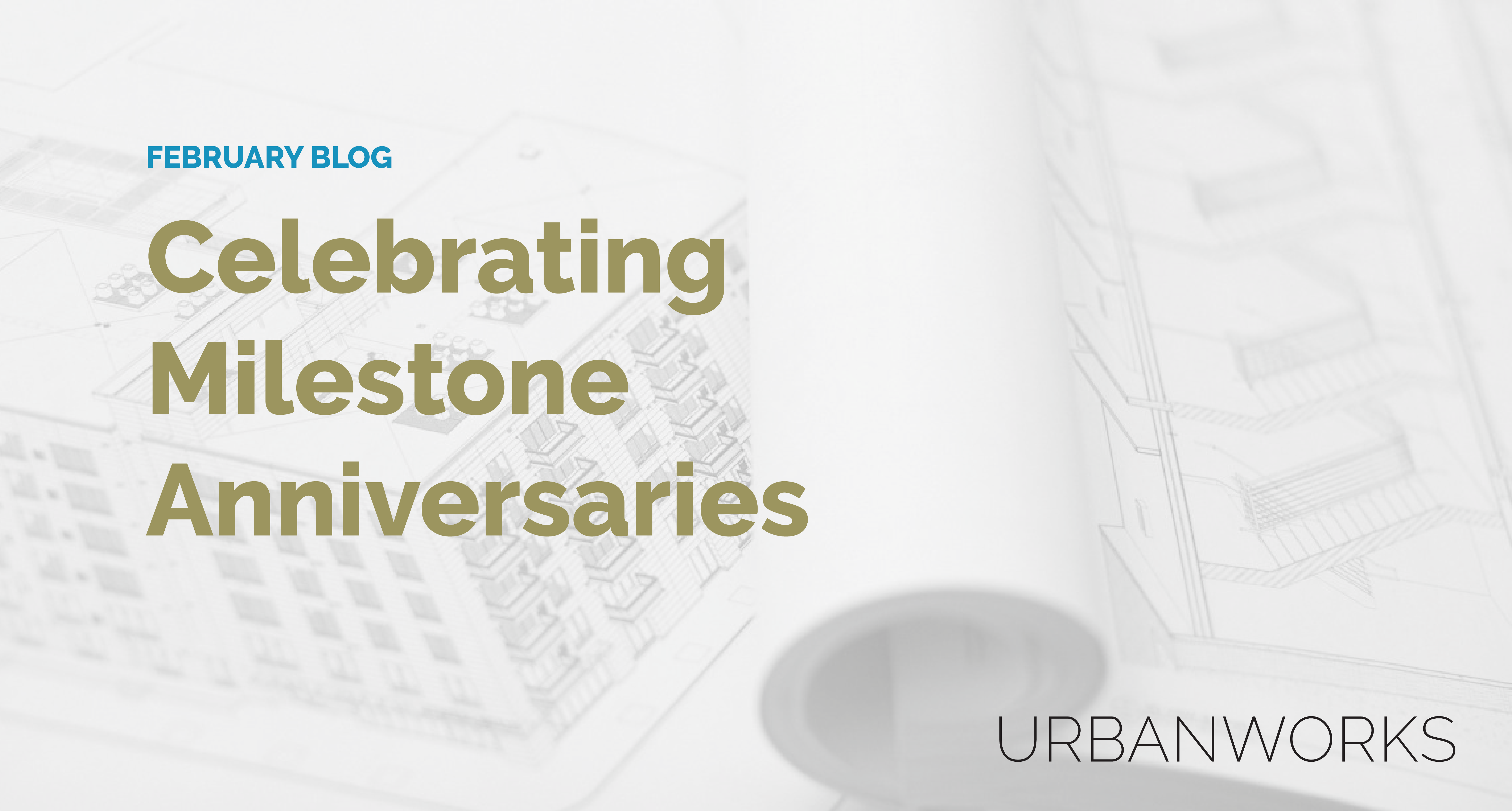 Celebrating Milestone Anniversaries
At UrbanWorks, we like who we work with! We are proud to celebrate some exciting staff milestones in 2021, and know that each of these talented team members approach their work with the same passion as they did when they joined the team.
Devon Lundy – 10 Year Anniversary
Devon Lundy is an UrbanWorks Project Architect who began working with us in 2011. He is an important team player who excels at coordinating with consultants and other professionals to ensure the full team is supported and involved. Devon brings a passion for his work that makes it easy for others to work with and learn from him. When not digging into building details at his desk, Devon can be found at job sites overseeing construction progress. UrbanWorks appreciates Devon's positive outlook and sense of humor that bring a smile to our faces and a welcoming atmosphere to the office!

Rick Wessling – 8 Year Anniversary
Rick Wessling is an UrbanWorks Project Manager, Specification Coordinator and Project Staff Manager. His leadership at the firm helps our projects run smoothly! With more than 35 years of experience, Rick is a leader in overseeing projects and delivering them on time and on budget for our clients. He is passionate about advocating for our clients and their visions through regular communication, and his strong background and experience make him a trusted resource within the firm. We are grateful to have him on our team!
Sarah Davis – 5 Year Anniversary
Sarah Davis is UrbanWorks' Senior Interior Designer. Sarah launched the UrbanWorks Interiors Design team, and now leads an interiors team of 5 while collaborating with our design and architecture teams. Sarah has more than 15 years of experience designing for different types of buildings and clients, including as a contractor for UrbanWorks before officially joining the firm 5 years ago. Sarah works closely with clients, ensuring that their ideas come to life in a space. UrbanWorks appreciates Sarah's creativeness, kindness, and leadership skills as she takes our interiors team to the next level every day!
Greg Johnson – 5 Year Anniversary
Greg Johnson is a Designer who joined UrbanWorks in 2016. Greg is a key team member on our projects, and works well with everyone! He has experience ranging from the project conception to completion, allowing him to put efforts into any aspect of our work. Greg is dedicated in the projects he is involved with and is not afraid to take the time to pay attention to the details- making him critical to our projects. At UrbanWorks, we deeply appreciate Greg's ability to pivot to different areas of work and that he always has the latest news about the TimberWolves!
Thank you for your work, Devon, Rick, Sarah, and Greg!
You might also like
Spotlight on Interior Design in Affordable Housing

https://urban-works.com/wp-content/uploads/2022/03/Interior-Design-Affordable-Housing-Banner.png

6226

3350

UrbanWorks Architecture

UrbanWorks Architecture

https://urban-works.com/wp-content/uploads/2022/03/Interior-Design-Affordable-Housing-Banner.png