YouthLink and Downtown View Apartments Wins Merit Award
https://urban-works.com/wp-content/uploads/2019/07/AIA-Merit-Award.jpg
3600
2400
UrbanWorks Architecture
UrbanWorks Architecture
https://urban-works.com/wp-content/uploads/2019/07/AIA-Merit-Award.jpg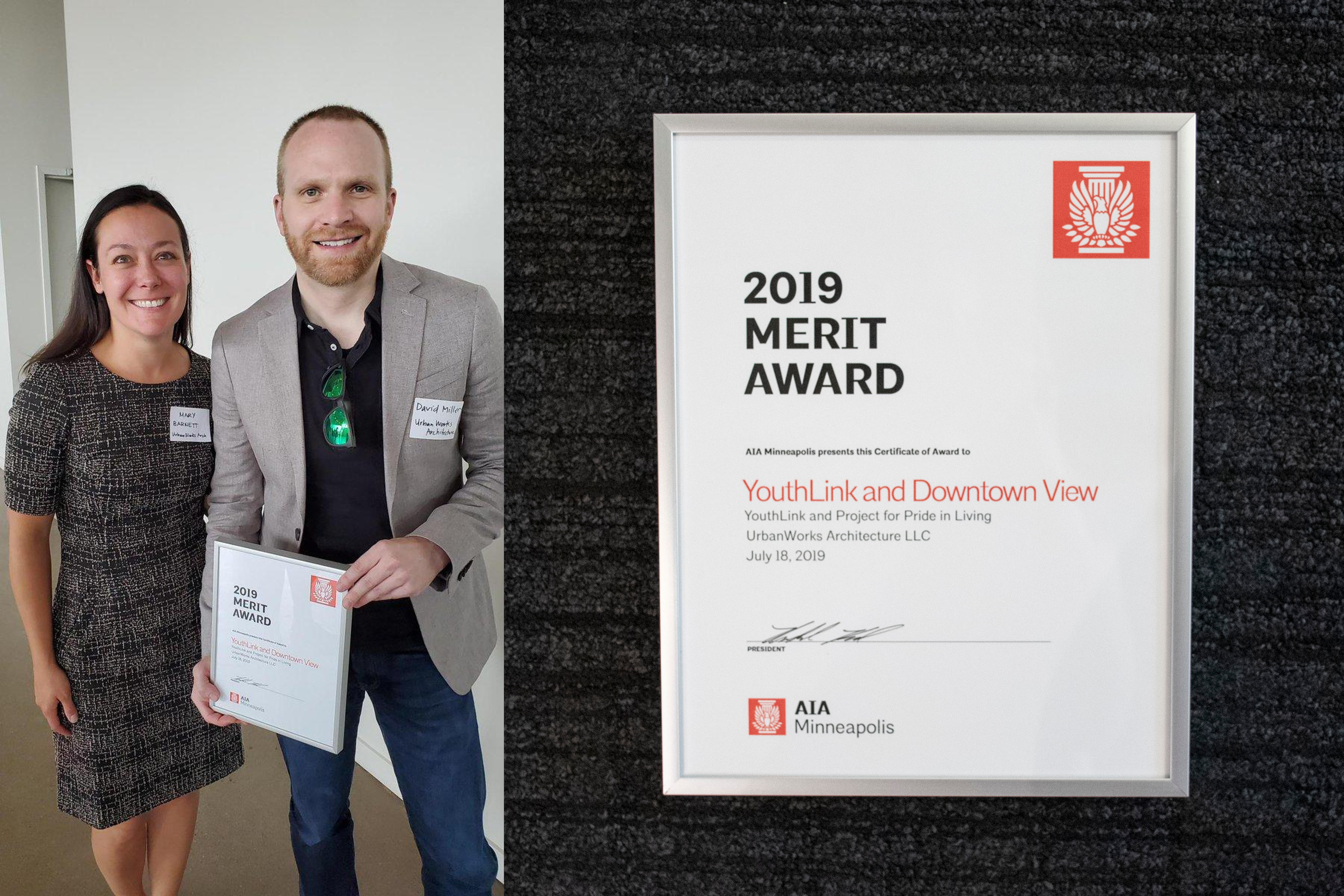 YouthLink and Downtown View Apartments Wins Merit Award
via AIA Minnesota
AIA Minneapolis has announced the 2019 Merit Award recipients which includes YouthLink and Downtown View.
Youthlink is a non-profit organization that works with homeless youth, ages 16-23. Located in downtown Minneapolis, they have over 40 years of experience connecting young people with resources and support – be it a hot shower or warm meal, assistance with employment or educational goals, accessing mental and physical health resources, or finding supportive housing.
In 2018, they completed a substantial renovation and addition that transformed their office headquarters, Drop-In, and Youth Opportunity Center (YOC) facility. In conjunction with that effort, they partnered with Project for Pride In Living (PPL) to develop a small portion of their lot into Downtown View – 46 units of new, long-term supportive housing for homeless and at-risk youth ages 18-24. With apartments that consist of studios and four bedroom suites, Downtown View provides a model that helps young people onto a path of self-reliance, where dreams and goals can become a reality.
Together, Youthlink and Downtown View form a unified campus that creates a holistic, positive, and vibrant community – making it a welcoming place critical to the journey-oriented nature of young people experiencing homelessness.
"Unique in its approach to creating a jury, these awards encompass the views of business professionals, real estate developers, community advocates, and academic leaders as well as architects.  The Merit Awards were established to recognize projects by AIA Minneapolis architects that tell the story of Excellence beyond design, emphasize Public Interest Design, and embrace the varied forces that shape a building."
The Merit Awards were presented at a special awards luncheon on June 15, 2017 and selected project will be highlighted in Architecture MN. Read More
You might also like
New George Floyd Square, Trellis plans to convert church into affordable housing

https://urban-works.com/wp-content/uploads/2022/07/churchconversion_660xx1325-745-0-14.jpg

660

371

UrbanWorks Architecture

UrbanWorks Architecture

https://urban-works.com/wp-content/uploads/2022/07/churchconversion_660xx1325-745-0-14.jpg