New Cornerstone Creek apartments may be first of their kind
https://urban-works.com/wp-content/uploads/2017/06/170616-Finance-and-Commerce-Cornerstone-Creek.jpg
620
330
UrbanWorks Architecture
UrbanWorks Architecture
https://urban-works.com/wp-content/uploads/2017/06/170616-Finance-and-Commerce-Cornerstone-Creek.jpg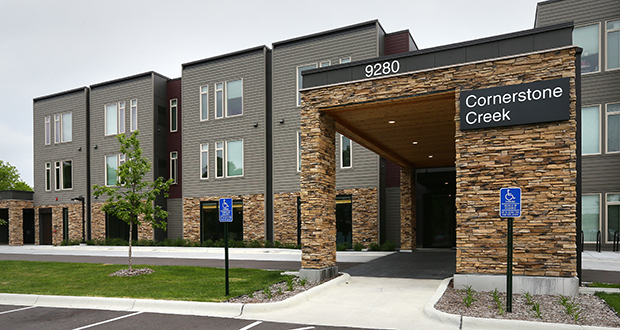 New Cornerstone Creek apartments may be first of their kind
via Finance & Commerce
"Earlier this year, Jewish Housing and Programming members and a nonprofit co-developer opened an apartment complex that they believe is the first independent housing of its kind for adults with developmental disabilities.
The 45-unit Cornerstone Creek complex…in Golden Valley, was designed with a focus on "creating community," said lead architect David Miller of Minneapolis-based UrbanWorks Architecture LLC. "With independent living comes the risk of isolation, so spaces are organized to facilitate interaction."
"According to a University of Colorado national study, more than 70 percent of developmentally disabled adults live with parents or other family caregivers. As aging relatives become unable to care for their adult children, social services agencies say the nation faces a crisis with developmentally disabled adults potentially flooding the 'group home' system.
The trend 'was the driving force behind this project,' said Linda Bialick, founder and president of Jewish Housing and Programming." Read More
You might also like
New George Floyd Square, Trellis plans to convert church into affordable housing

https://urban-works.com/wp-content/uploads/2022/07/churchconversion_660xx1325-745-0-14.jpg

660

371

UrbanWorks Architecture

UrbanWorks Architecture

https://urban-works.com/wp-content/uploads/2022/07/churchconversion_660xx1325-745-0-14.jpg