Tod Elkins "sleeps out" so that young people don't have to
https://urban-works.com/wp-content/uploads/2017/02/Sleep-Out-2016-Title-Block-Final.jpg
605
302
UrbanWorks Architecture
UrbanWorks Architecture
https://urban-works.com/wp-content/uploads/2017/02/Sleep-Out-2016-Title-Block-Final.jpg
Tod Elkins "sleeps out" so that young people don't have to
On September 25, 2016 UrbanWorks' Tod Elkins joined over 100 other business and community leaders for an inspirational, one-of-a-kind fundraiser – YouthLink MN's third annual "Night of Hope: Executive Sleep Out." He spent a night outside to raise funds for—and awareness of—YouthLink's programs and services for homeless youth in the Twin Cities. This was Elkins' second year participating in the annual event, and UrbanWorks' third year as a sponsor.
"Giving back to the communities in which we live and work is part of our core values," firm principal Elkins said. "Leaving the world a better place – through the facilities we design or in helping others have a bright future – is what we strive to do in all aspects of our lives."
For 40 years, YouthLink has provided a safe and supportive refuge, along with the resources needed by young people experiencing homelessness. Last year, more than 2,000 young people from the Twin Cities accessed YouthLink—which is also home of the Youth Opportunity Center (YOC)—in downtown Minneapolis. At the YOC, YouthLink and over 30 community partner agencies come together to provide a holistic array of services to help young people become educated, employable, and stably housed.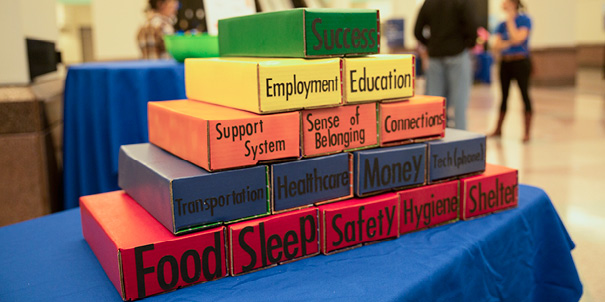 Image by Danae Hudson/YouthLink
"To hear the stories of those who have experienced homelessness is both humbling and inspiring. To witness the courage and faith that these individuals exhibit, and the change that can be made when they are connected with the support of YouthLink's services, showed me that there is room for change. Lending a helping hand can truly redirect and save a life," Elkins said after the event.
Funds from this year's Sleep Out will support transformational programming that helps young people reconnect with pathways of education and employment—giving them an opportunity to live their dreams.
"YouthLink views each young person as an individual. They look at their unique situation and work with them to not just get them off the streets, but align them with resources to give them a chance to be the person they were meant to be. To see the transformations and the determination of the young people… it's powerful."
UrbanWorks would like to thank to all who donated – together we raised nearly $1,800.
"I'm grateful to everyone who supported our fundraising campaign. Supporting YouthLink is making an investment in the future of young adults. You can't put a price on changing a life – but you can be part of the change."
For more information on YouthLink MN visit http://www.youthlinkmn.org/.