A new take on student housing: Fourth Street Cooperative
https://urban-works.com/wp-content/uploads/2017/02/Fourth-Street-Cooperative.jpg
605
302
UrbanWorks Architecture
UrbanWorks Architecture
https://urban-works.com/wp-content/uploads/2017/02/Fourth-Street-Cooperative.jpg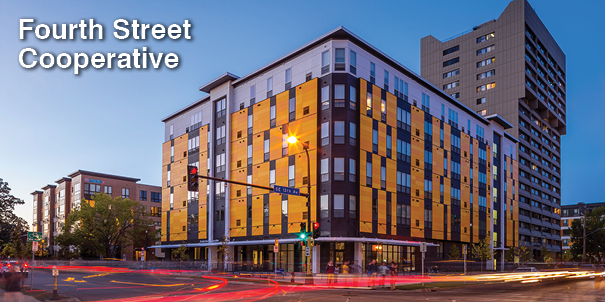 A new take on student housing: Fourth Street Cooperative
To maintain affordability for students in a market with creeping rents, UrbanWorks designed Fourth Street Cooperative to budget. The result is a building that offers its residents a beautiful and affordable place to live.
Riverton Community Housing's engaged board members and staff collaborated with UrbanWorks to design the Fourth Street Cooperative to reinforce the organization's mission of providing cooperative, affordable, quality housing for all students. "The UrbanWorks' design team responded to our need for the building to physically represent the co-op model, while infusing the whole project with energy from the exterior yellow panels, to the bright colors in the public spaces and the oversized unit windows," says Gary Ellis, executive director of Riverton Community Housing.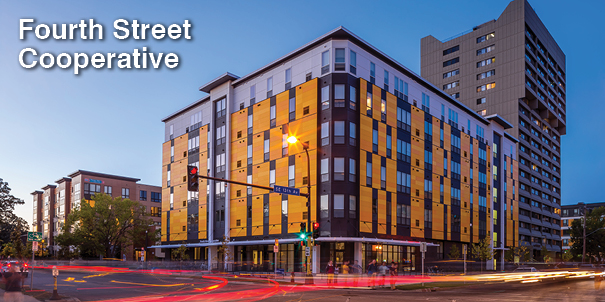 Using a playful range of yellows on the exterior, Fourth Street Cooperative complements and contrasts the aesthetic of the adjacent buildings. Nearly 2,500 square feet of retail space on the ground floor can accommodate one or two tenants, supporting the neighborhood's desire to expand Dinkytown's commercial core. "Fourth Street Cooperative is designed to engage the whole neighborhood," says Tod Elkins, principal of UrbanWorks.
For the individual units, ranging from studios to three bedrooms, UrbanWorks designed the bedrooms to be larger than typical and with an additional closet to accommodate residents sharing rooms. In addition to generous unit sizes, Fourth Street Cooperative offers below grade parking, a complete fitness room, and a bike room with easy street-level access and storage racks.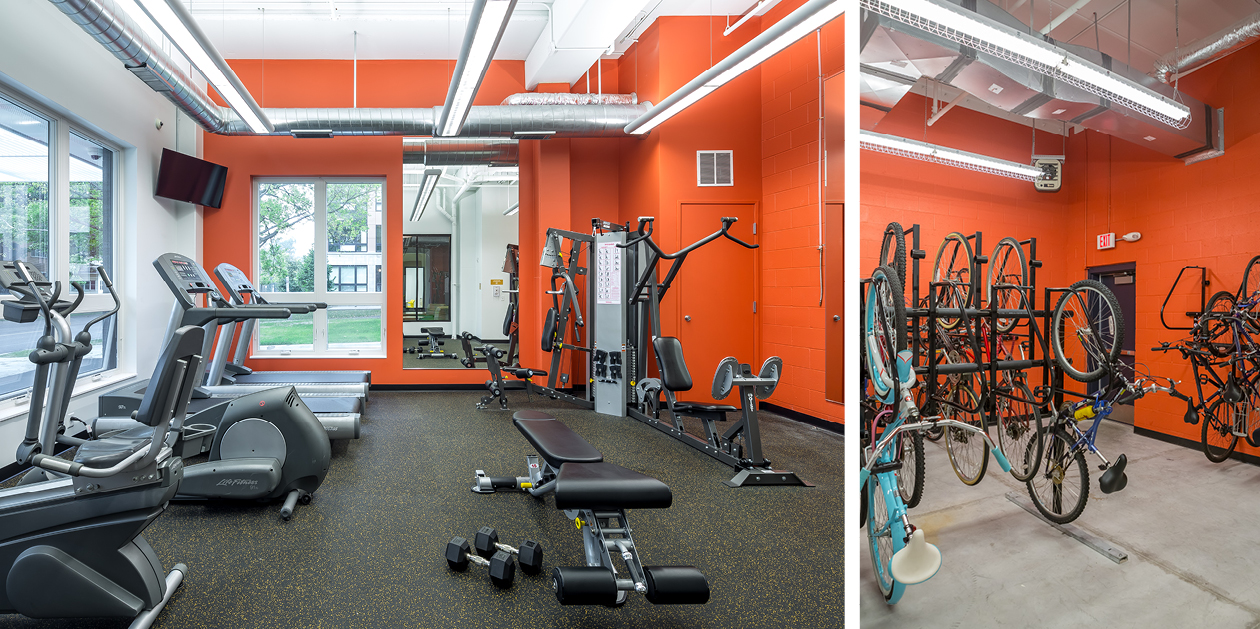 The lobby includes gathering space and an electronic message center to easily connect the co-op residents.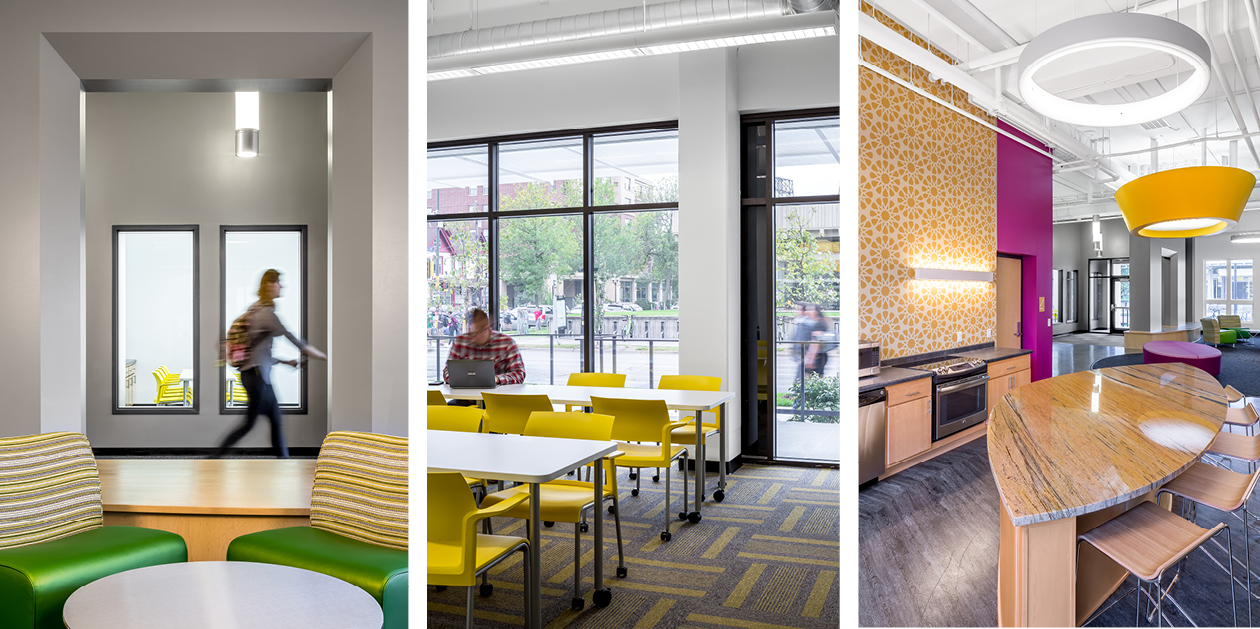 "Combining popular amenities with spaces our co-op residents need to operate the building allows Fourth Street Cooperative Housing to compete with other area student housing, while remaining a more affordable living option," comments Ellis.
Fourth Street Cooperative is able to maintain rents about 10 to 15 percent lower than other area housing because of a nonprofit ownership structure, and the residents are responsible for the management of the building through their co-op board.
Now fully leased, all 66-units of the 6-story Fourth Street Cooperative were ready for move-in for the 2015 Fall Semester. A retail tenant is expected to open later this year. Fourth Street Cooperative is an energetic, thriving addition to Dinkytown.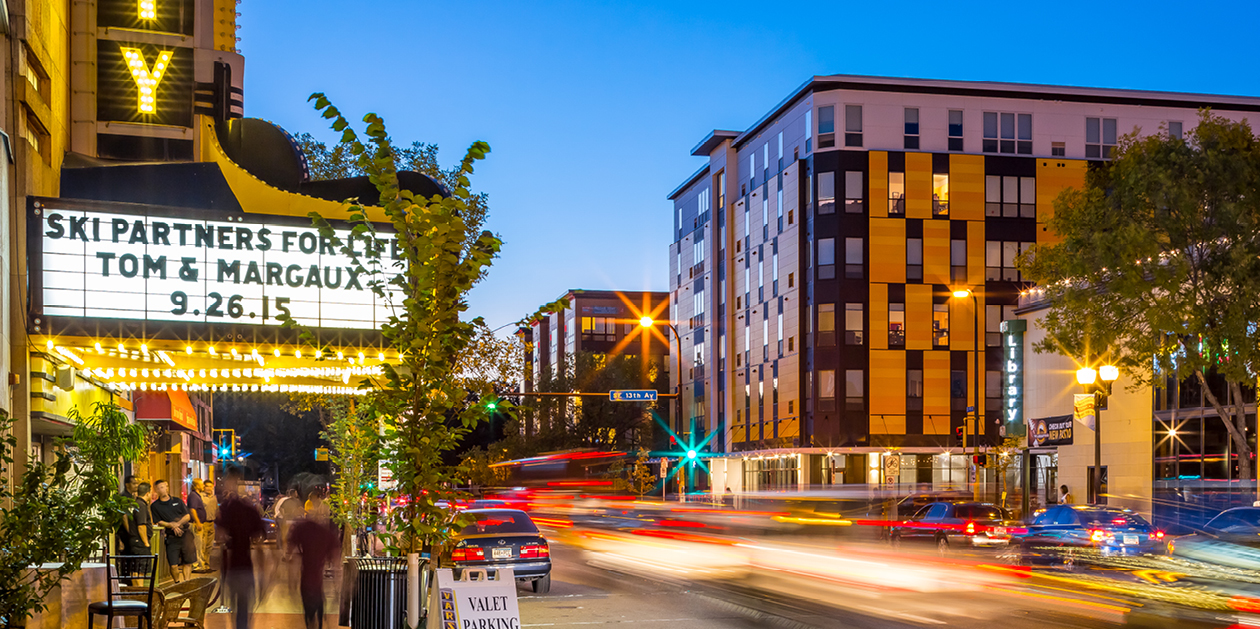 Client: Riverton Community Housing / Project for Pride in Living Inc. (PPL)
Contractor: Frana Companies
UrbanWorks Team: Tod Elkins, David Haaland, Rick Wessling, Bart Nelson and Devon Lundy
Project Size: 66 Dwelling Units and 2,500 SF Retail Space
Completion: August 2015
Cost: $12 million