Micro Apartments: Three Questions with David Miller, AIA, LEED AP
https://urban-works.com/wp-content/uploads/2017/02/Micro-Apartments.jpg
605
302
UrbanWorks Architecture
UrbanWorks Architecture
https://urban-works.com/wp-content/uploads/2017/02/Micro-Apartments.jpg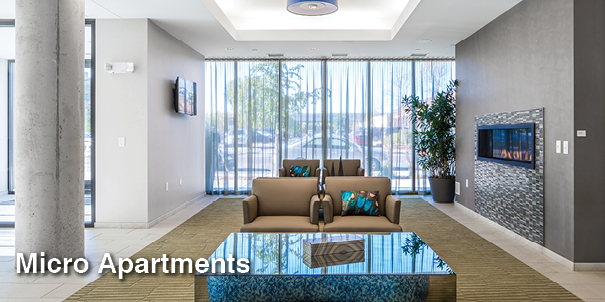 Micro Apartments: Three Questions with David Miller, AIA, LEED AP
David Miller oversees the creative process at UrbanWorks. As lead project designer, David makes his mark by quickly turning ideas and concepts into a focused vision. He guides clients through a design process that is highly visual, utilizing imagery to clearly articulate design principles, alternatives, and solutions.
What makes a micro-unit different from other apartment unit types?
The "micro" is a housing category new to the Twin Cities. It's a type of dwelling unit with the same high-end finish level we've come to expect from market-rate apartments – but in a very efficient, functional footprint ranging from 350 to 450 square feet.
To make the most of space in the unit, micros focus on quality over quantity and may have unique features, such as beds that fold up and incorporate a desk or table, extra large windows for abundant daylight, built-in seating, unique storage solutions, and compact but thoughtful designer kitchens.
We're finding that as buildings offer more common amenities – lobbies as lounge space, multiple community rooms, roof decks, fitness centers, and guest suites to name a few – residents require less square footage in their units. In addition, convenient access to local restaurants, markets, and recreational activities means people spend less time at home. These attributes combine to become a natural extension of daily life outside of the apartment, so it only makes sense that smaller is smarter for many renters.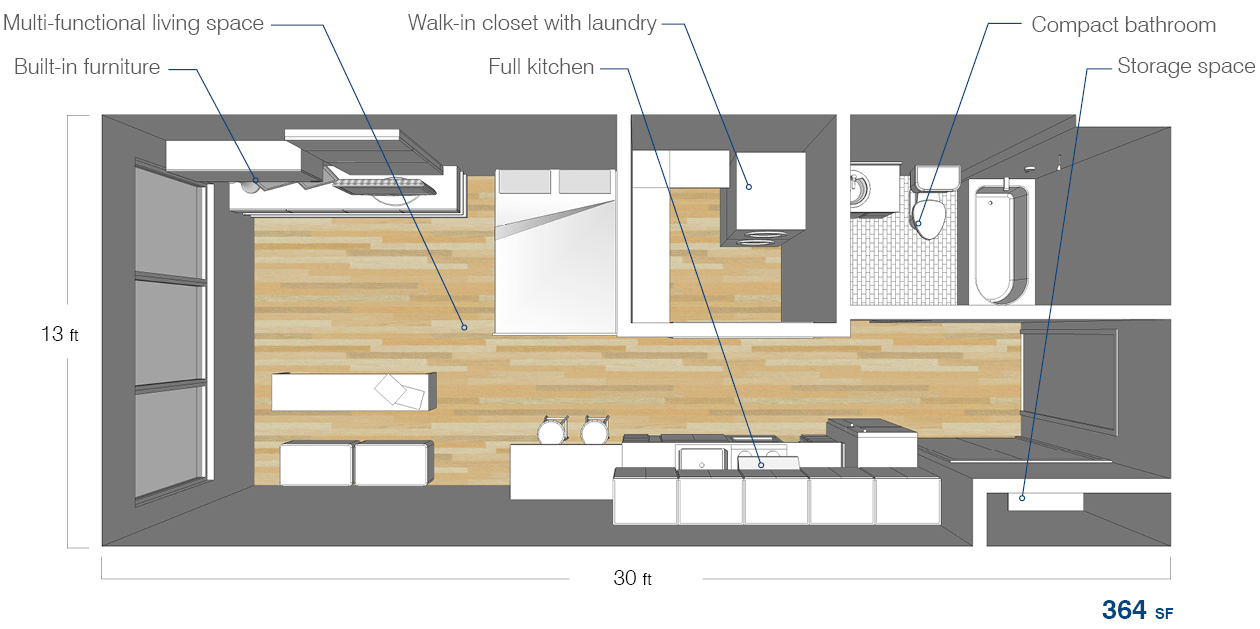 Where have micro apartments been successful, and where else may they work?
We've been researching micro apartments in cities where space is limited and real estate is in high demand, such as Portland and Seattle.  They are also being developed in New York, San Francisco and several projects are under development in Minneapolis.  Micro apartment buildings are perfect for unique, tight urban sites that might not otherwise accommodate a conventional development.  I think they are more location-specific than most multi-family housing – a micro apartment building near the university is likely going to be much different than one in downtown or one near the lakes. Every market is different, so the development and design approach has to balance national trends with research from local sources.
Why do micro apartments make economic sense?
People will be looking increasingly at micro apartments because they want to live in a well-designed, well-appointed place that is in a great location for an affordable price. With average rent prices continuing to increase in Minneapolis to more than $1,500 for a new one bedroom apartment, micros are the perfect solution for residents who want to live in a particular location but don't want to pay for a larger apartment or share one.  We believe there will be many more developed as both residents and developers see the value in small, elegant and affordable.